As a family of five Irish-owned gyms, with CrossFit locations dotted around Leinster, Bua specialises in training small groups of athletes of all fitness levels to help them reach their goal of becoming the fittest, healthiest and happiest version of themselves imaginable.
Offering a highly effective and efficient workout regimen that combines elements of strength training, cardiovascular exercise and functional movements, training with Bua CrossFit leads to improved overall fitness and endurance. Additionally, the supportive community and group dynamics found across the Bua CrossFit gyms promote motivation, accountability and a sense of camaraderie, making it a rewarding and enjoyable fitness experience for many individuals.
In this article, we discover more about the five Bua CrossFit locations and how membership can change your life in many amazing ways.
CrossFit Locations #1: Bua Dunleer
Location overview
Situated at Mullinscross, Dunleer, Co. Louth, the central nature of Bua Dunleer just off the M1 is hugely convenient for those commuting or travelling. The countryside location also enables members to soak up some post-workout fresh air!
The gym boasts state-of-the-art CrossFit training facilities and is furnished with top-notch equipment from renowned brands such as Eleiko, Rogue and Concept 2. Members consistently praise the cleanliness, accessibility and comprehensiveness of the Bua Dunleer facilities.
Community and support
At Bua CrossFit Dunleer, a supportive and inclusive community is paramount; one where members forge lasting friendships and connections with fellow fitness enthusiasts. With expert coaching and guidance tailored to all fitness levels, every individual is empowered to achieve their goals and thrive within this tight-knit community.
Training programmes and classes
With a variety of classes available, which utilise CrossFit elements such as workout of the day (WOD), return-to-play, competitor sessions and open gym sessions, each workout and session is tailored to the individual member to ensure their most pressing fitness goals are being addressed. All workouts are intended to be measurable, varied and functional – the core pillars of a training session at Bua Dunleer, and indeed across all five gyms.
CrossFit Locations #2: Bua Celbridge
Location overview
The vibrant family gym located at Bua Celbridge (previously known as CrossFit West Dublin) has been in situ since July 2021. Conveniently situated just off the M4, the gym is the ideal choice for commuters seeking a perfect CrossFit experience in Celbridge.
Community and support
Within the walls of Bua Celbridge, a thriving community of members awaits. Members are invited to embrace the camaraderie of a close-knit small group environment and discover why this is the ultimate destination for their fitness journey.
Training programmes and classes
Utilising a broad range of tools such as weightlifting, cardiovascular training, gymnastics and more, the team at Bua Celbridge create a new workout every day for members, making sure they are challenged at every turn. The clearly defined nature of all workouts at the gym also means that members come away with a personal score that they can consistently and continuously improve upon.
CrossFit Locations #3: Bua Naas
Location overview
Situated in an ideal location for gym-goers from Naas and Newbridge, Bua Naas is not only easily accessible just off the M7, but it also makes for an excellent choice for commuters. After opening in June 2021 during the lockdowns, to bring CrossFit to the Nass and Newbridge area for the first time, the 5,000-square-foot gym has been completely kitted out by Eleiko, the world's leading fitness equipment manufacturer, making it a world-class facility.
Community and support
The vibe at Bua Naas is incredibly supportive and driven by the daily progress of its members. Since its opening, an incredible community developed at the facility; one that is both fun and focused in equal measure.
Training programmes and classes
Every day at Bua Naas, the aim of the game is to help members achieve a well-rounded state of health and fitness. Under the guidance of expert CrossFit coaches, each daily workout is designed to enhance members' skills, correct their movement techniques, and prepare them to tackle the session with the perfect intensity.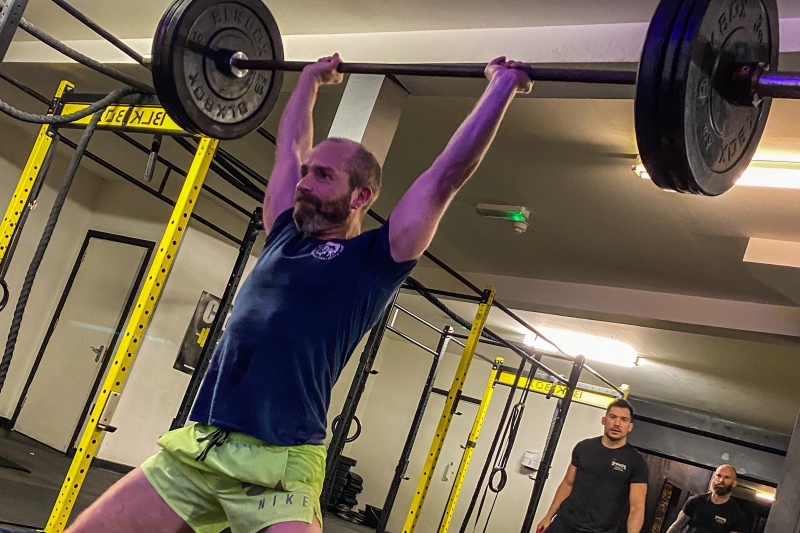 CrossFit Locations #4: Bua Smithfield
Location overview
As the quintessential city centre CrossFit gym, located in the heart of Dublin, Bua Smithfield is perfect for anyone living and working in town. Previously known as Viribus Crossfit, Bua Smithfield joined the Bua Family in 2022.
Community and support
With an amazing atmosphere and friendly, helpful coaches on hand, Bua Smithfield promotes community in numerous ways. Members compete against each other and also cheer each other on – the perfect environment for creating long-lasting friendships that last the test of time and offer a continuous source of support throughout the lifelong fitness journey.
Training programmes and classes
The workouts at Bua Smithfield are entirely customisable, ensuring they cater to members' specific fitness requirements. Furthermore, individuals at all levels of experience are warmly welcomed, including complete beginners. Each class and workout is built upon the idea of daily improvement, excelling and improving strengths in increments with the overarching goal of reaching a level of fitness that many members never believed possible.
CrossFit Locations #5: Bua Santry
Location overview
Conveniently located near the M1 and M50, Bua Santry offers the ideal setting for individuals in North Dublin seeking to elevate their fitness journey with CrossFit. Pioneering as one of the earliest CrossFit gyms in Ireland, it has flourished over the last decade, transitioning from a modest 1000sqft gym to an impressive 6500sqft world-class facility equipped with state-of-the-art amenities. The team of expert coaches based there holds a remarkable reputation for guiding members towards attaining their individual goals.
Community and support
A warm and nurturing community welcomes each member of Bua Santry, providing unwavering support to each athlete as they pursue their goals with enthusiasm and enjoyment. The gym caters to a diverse range of fitness preferences, from the dedicated and focused CrossFitters to those taking their first steps towards becoming a fitter, enhanced version of themselves. No matter what the fitness journey or ultimate destination, Bua Santry has something special to offer.
Training programmes and classes
There are a variety of classes and sessions available at Bua Santry to help all members achieve their fitness objectives. There are also opportunities outside of the structured class environment where members can focus on a more individual level. The Open Gym at Bua Santry is an example of this, providing a space where members practice their movement skills with a coach, catch up on one of the Daily Workouts, or complete the programmed Extra Work.
Find five CrossFit locations across Leinster with Bua
With five locations around Leinster, we provide a reputable, expert, community-oriented experience to those looking to begin or continue their CrossFit journey.
Offering perks such as free trials for beginners, access to all five gyms for all of our members, and a team of experienced and dedicated coaches, there is no better place to embrace and embody CrossFit than Bua.
Contact us today for more information on all of our gyms and to arrange a free trial, and don't forget to check out our blog for news and updates on all things CrossFit in Ireland!